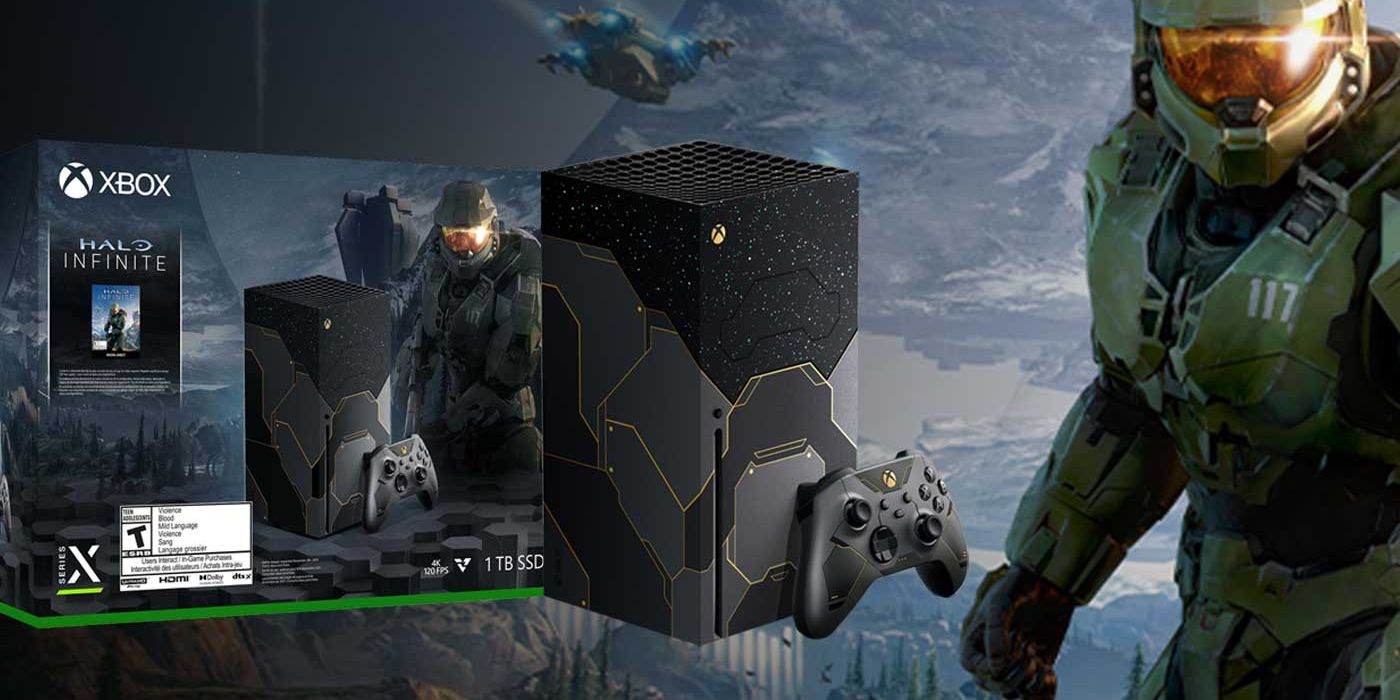 On Tuesday, the Halo Infinite edition Xbox Series X console bundle was made available to pre-order for GameStop PowerUp Rewards Pro members ahead of the game's long-awaited release in December. The latest Halo installment is set to pick up where 2015's Halo 5: Guardians left off, and it will bring with it an all-new limited edition new-gen console and controller.
A special limited-edition Halo Infinite Xbox Series X console and controller bundle, in addition to a separately sold Halo Infinite Elite Series 2 controller, was unveiled in August, with the products being set for a November 15 release to commemorate the 20th anniversary of the Halo franchise. Unfortunately, scalpers quickly got a hold of Halo Infinite Xbox Series X pre-orders and began listing them for prices upwards of $1000, just as has been done with the vanilla Xbox Series X since it launched in 2020. Luckily for some GameStop customers (some of whom might also be scalpers), the Halo Infinite Xbox Series X has been made available at retail price.
Related: Halo Infinite Fans Petition For Classic Announcer In Big Team Battle
On Twitter and elsewhere, GameStop announced a $550 special edition Halo Infinite Xbox Series X bundle became available to pre-order an hour early for GameStop PowerUp Rewards Pro Members. The gaming retailer's bundle includes the custom Halo Infinite-themed Xbox Series X console (which features a star pattern modeled after the Zeta Halo skyline and a "Cortana Blue" vent), a matching Xbox Series X/S gamepad (not to be confused with the green Halo Infinite Elite Series 2 controller), and a digital download code for Halo Infinite.
Halo Infinite was notoriously planned to be released as an Xbox Series X/S launch title, but developer 343 Industries ultimately delayed the game after weighing negative feedback, leaving the console's launch window next to empty. In the months since, public opinion on the game has warmed largely thanks a series of multiplayer betas, but its sales and Xbox Game Pass success isn't necessarily assured after the developer revealed Halo Infinite's Forge and campaign co-op modes won't be available at release.
For those customers prepared to drop back into the Halo universe feet-first after the long wait for Halo Infinite regardless of its launch state (as well as for those who lack an Xbox Series X or want a more fancifully designed one), the special edition Halo Infinite Xbox Series X console and controller bundle seems like a reasonable deal for welcoming Master Chief into their living rooms in style. GameStop's pre-orders for the bundle came less than five weeks before the console releases on November 15, a date that only precedes Halo Infinite's own release by a few weeks.
Next: Can You Play Xbox Series X Games On Xbox One?
Halo Infinite will be a available for Xbox Series X/S, Xbox One, and PC on December 8, 2021.
Sources: GameStop, GameStop/Twitter
from ScreenRant - Feed https://ift.tt/3v5O1F8 https://ift.tt/3axdNc8