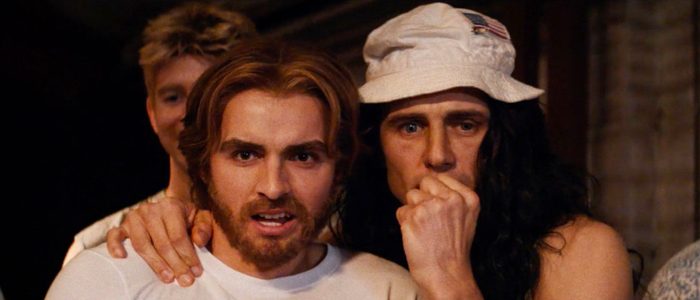 The Disaster Artist, James Franco's humorous look at the making of Tommy Wiseau's The Room, hits Blu-ray this week. In anticipation of the impending Blu release, we have an exclusive Disaster Artist clip featuring Franco and Wiseau seemingly trying to one-up each other with impenetrable accents. Watch the exclusive Disaster Artist clip below.
The Room has had quite the shelf-life. Who knew that Tommy Wiseau's ineptly made melodrama would end up becoming seemingly immortal? Midnight screenings and word-of-mouth helped turn The Room into a must-see – the type of film that people insisted their friends watch, if only to marvel in how dreadful it all was. Then came James Franco's 2017 film The Disaster Artist. Adapting the book from Room co-star Greg Sestero and Tom Bissell, Franco's film helped solidify Tommy Wiseau as a household name. Now, Wiseau is seemingly more popular than ever, and the impending Blu-ray release of The Disaster Artist will likely continue the trend.
In anticipation of this week's Blu-ray release of The Disaster Artist, we have an exclusive Disaster Artist clip that takes you (briefly) behind-the-scenes of the film.
Exclusive Disaster Artist Clip
In the clip, Franco (still in character as Tommy Wiseau, sort-of) and Wiseau go back-and-forth. "Accent is okay," Wiseau says. "It's a little quirky, but it's okay."
When Franco asks if Wiseau might direct him in a movie, Wiseau pitches Franco on starring in a film called American Stud. Feel free to make-up your own plot to that hypothetical film, folks. This clip is just a brief snippet of other special features on the Blu-ray release. The full list of features is below.
Gag Reel
Audio Commentary with James Franco, Dave Franco, Tommy Wiseau, Greg Sestero, and More
"Oh, Hi Mark!: Making a Disaster" Featurette
"Directing a Disaster" Featurette
"Just a Guy Leaning on a Wall: Getting to Know Tommy" Featurette
Theatrical Trailer
 The Disaster Artist hits Blu-ray (plus Digital), and DVD on March 13, 2018.
Based on the best-selling tell-all book about the making of the cult-classic disasterpiece The Room, "The Disaster Artist: My Life Inside The Room, the Greatest Bad Movie Ever Made", by Greg Sestero and Tom Bissell, and written for the screen by Scott Neustadter & Michael H. Weber, The Disaster Artist tells the hilarious true story of aspiring filmmaker and infamous Hollywood outsider Tommy Wiseau – an artist whose passion was as sincere as his methods were questionable – into a celebration of friendship, artistic expression, and dreams pursued against insurmountable odds. Enter the room of The Disaster Artist with the release's extensive Special Features, including audio commentary with director James Franco, Dave Franco, Tommy Wiseau, Greg Sestero, and more; a gag reel; as well as three featurettes.
The post Watch an Exclusive 'Disaster Artist' Clip From the Blu-ray Release appeared first on /Film.